The laboratory is the cradle of science, the foundation of scientific research, and plays a very important role in the development of science and technology. The material comprehensive laboratory system has four major experimental sections, including material testing laboratory, powder engineering laboratory, process engineering laboratory, and industrial software laboratory.
The comprehensive material laboratory adheres to the attitude of excellence and meticulousness and strives to make every experimental test scientific and accurate. Among them, the material testing laboratory has rich testing experience in powder materials. The samples of customers' incoming materials are tested in various aspects through advanced precision instruments to obtain accurate data. The process engineers customize suitable digital materials according to the experimental results and project experience. Processing system solutions, empowering customers to move materials towards industrial intelligence.
What is it like for our engineers to work in the lab?
They will often do the following test items:
Powder static characteristics: such as bulk density, bulk density, angle of repose, water content, powder particle size test, (curve distribution report) particle shape image analysis…
Powder dynamic characteristics
Gravity flow arching angle test, suspension speed test, negative pressure conveying test, positive pressure conveying test, weightless feeding accuracy test, degassing degree packaging test…
Five parameter tests of powder materials
How are these items tested? In the laboratory, each test is carried out in strict accordance with the set standards for experimental testing
Particle size test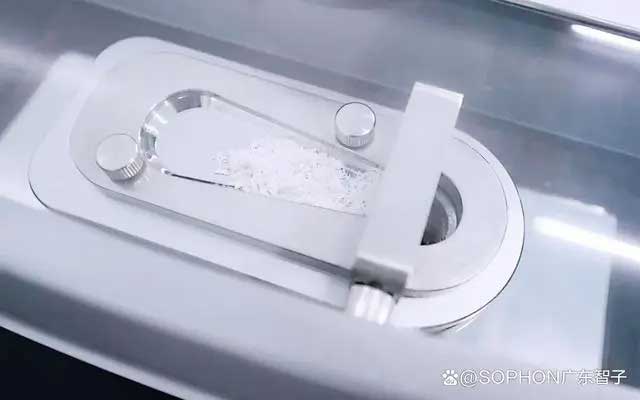 Use a laser particle size analyzer to measure the particle size of the powder with high precision through an ultra-high-speed intelligent laser particle size analysis system.
Bulk density test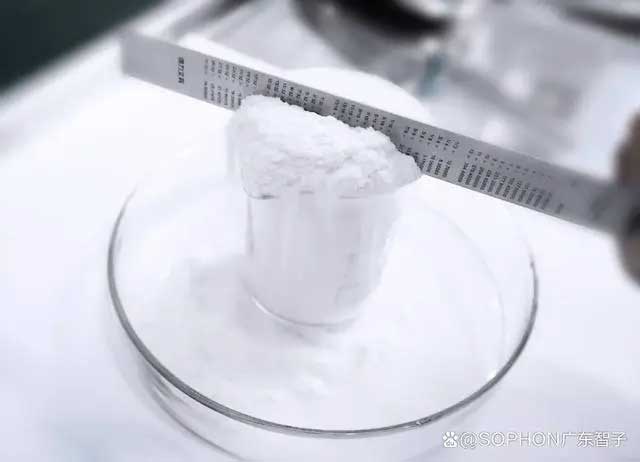 Let the powder fall freely from the mouth of the funnel to fill the measuring cup at the set height, and put it into a high-precision weighing instrument to calculate the bulk density of the powder.
Water content test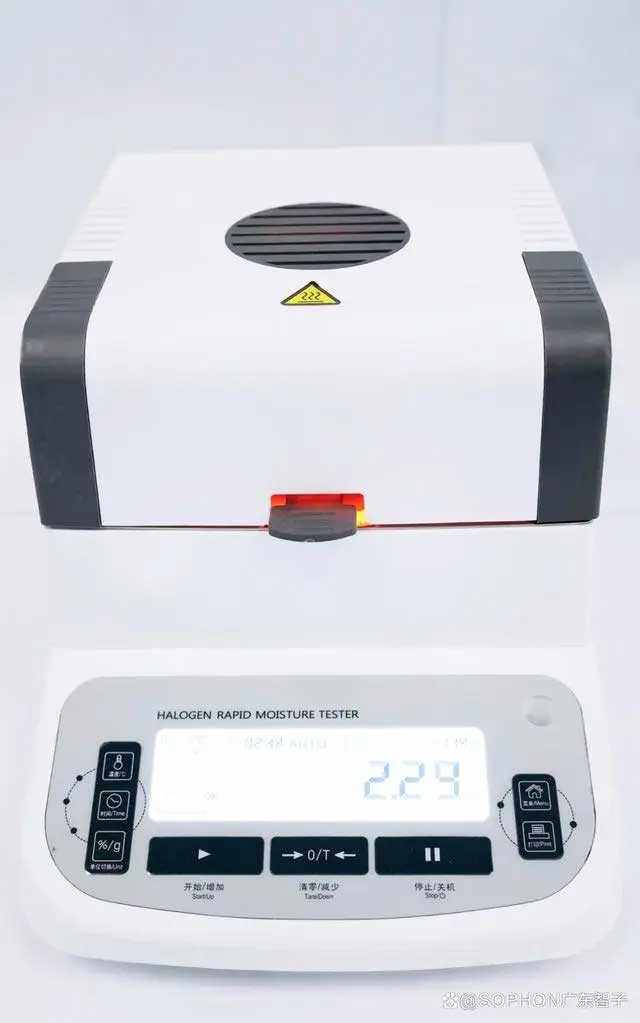 Use a moisture analyzer to measure the moisture content of the powder through a high-precision weight sensor and a heating device.
Bulk Load Density Test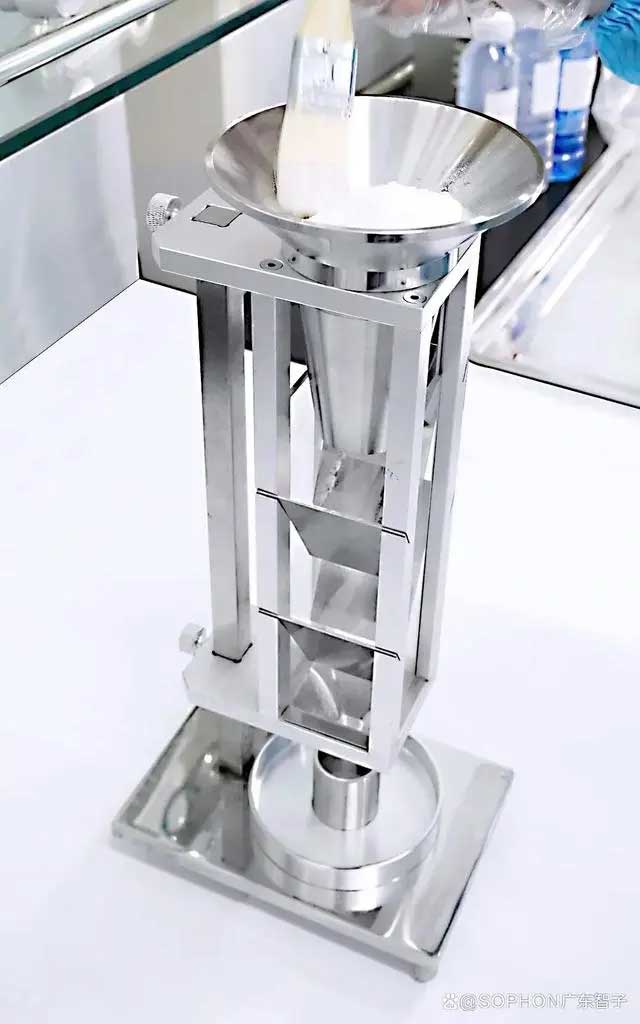 Use the Scott volumetric bulk density tester to fluff the powder and measure the bulk density of the powder.
The angle of the repose test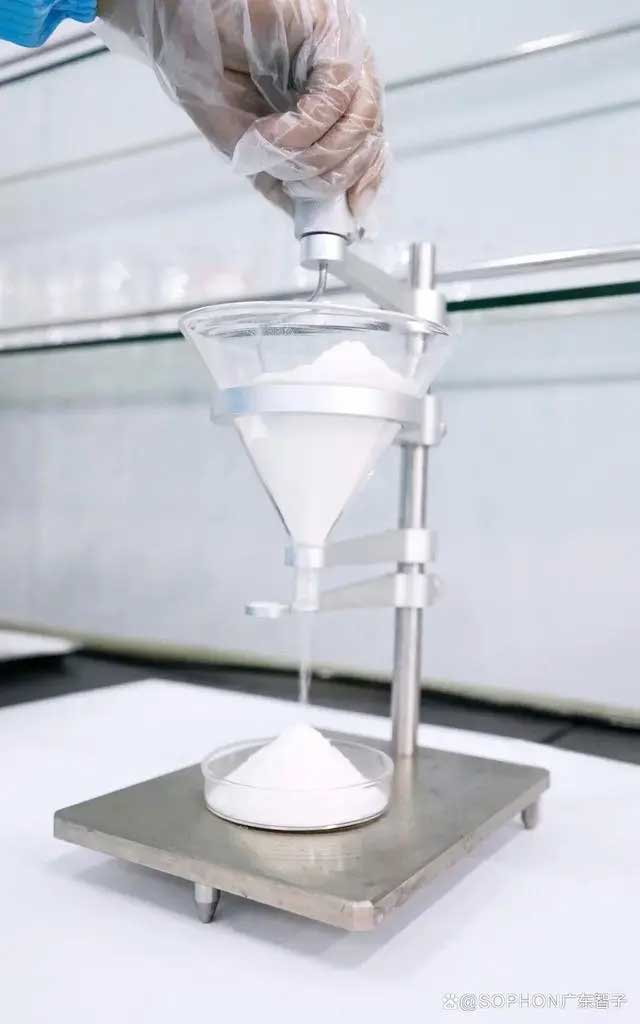 Use the angle of the repose measuring instrument to feed the material to the chassis through the glass funnel, and calculate the angle of repose of the powder according to the final angle and height of the powder.
Final Words
The above is the relevant introduction to powder testing technology. If you still want to know more, you can follow our account. The editor will continue to update more information in the future!