Magnetic Particle Clutches Working Principle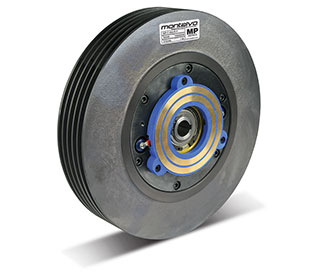 Many converting applications and web tension processes require adjustable torque while maintaining a dust-free environment, making magnetic particle clutches an ideal solution. Magnetic particle clutches are uniquely suited to tension control applications because of the wide operating torque range available. Though they are incredibly simple in both construction and operation, they provide highly accurate torque control and linear torque to voltage.
Below, we cover the full range of advantages and working principles offered by the magnetic particle clutch.
How Do Magnetic Particle Clutches Work?
Magnetic particle clutches utilize the current of an electromagnetic field to create friction between particles and transfer power. These clutches don't use a friction plate but instead have two rotating discs: one is attached to the driver and one is attached to the driven shaft. The empty space between these two discs is filled with charged magnetic particles, typically suspended in oil or sometimes a fine graphite powder.
When the current passes through the charged particles, it generates a magnetic field that binds the particles in the form of a chain, creating a link between the two discs. The link strength can be altered depending on how much current is passing through, with increased voltage creating increased strength. These electrically charged magnetic particles are used to create friction within clutches, rather than using friction plates as other clutches do.
When the current is removed from the clutch, the input is then free to move with the driven shaft, which causes some drag since magnetic particle units are located within the powder cavity.
Electromagnetic Particle Clutch Advantages
Similar to the electromechanical clutch, torque to voltage with the magnetic particle clutch is nearly linear, so engagement is very fast. Torque can be controlled very precisely by a magnetic particle clutch, making it a common solution for tension control applications such as taper tension control, wire winding, or foil and film tension control.
In addition to accuracy, they also offer a fast response.
The other various benefits offered by magnetic particle clutches include:
No dust – perfect for cleanroom environments
Long maintenance-free service life
Easy Installation
Wide torque range
Reliable, repeatable, accurate, and smooth
Rapid response to changes
Smooth starts and stops
Silent operation
Low power consumption
Compact and space-saving
Linear and proportional torque to the electric current
Torque independent of speed
Cost-effective solution for variable torque systems
Optional passive or forced air additional cooling options
Disadvantages of Magnetic Particle Clutches
While magnetic particle clutches tend to be slightly more expensive than other options, their primary limitation is the amount of thermal energy they create. Because magnetic particle clutches are used in tension applications where friction frequently occurs, heat can be a constant factor, with excessive heat causing damage to the magnetic capacity of the particles and ultimately degrading their performance.
To properly size magnetic particle clutches, both the heat and torque transmitted need to be considered for the application they will be used in.
Sources: https://www.montalvo.com/article-library/how-magnetic-particle-clutches-work/