| | |
| --- | --- |
| product name | Titanium and titanium alloy target block, titanium cake |
| Grade/Material | TA1,TA2,TA3,TC4(Ti6AL4V),GR1,GR2,GR3,GR5( Ti6AL4V) |
| standard | Titanium round target: technical condition: comply with GB/T2695-1996, ASTMB348-97 Titanium plate target: technical condition: comply with GB/T3621-94, ASTM B265-93 |
| Specification | Round target: Common specifications: 60/65/95/100*30/32/40/45mm Plate target: (8-25)mm * (150-300) mm * (1000-2500)mm Tube target: 70mm * 7mm /10mm |
| surface | Polished, can be threaded |
| characteristic | Light weight, excellent corrosion resistance, corrosion resistance, high strength, good heat resistance, good ductility, non-toxic, non-magnetic, excellent mechanical strength, etc. |
| state | Annealed state (M) Hot processed state (R) Cold processed state (Y) (annealed, ultrasonic flaw detection) |
| application | Used in semiconductor separation devices, flat-panel displays, storage electrode films, sputtering coatings, workpiece surface coatings, and glass coating industry |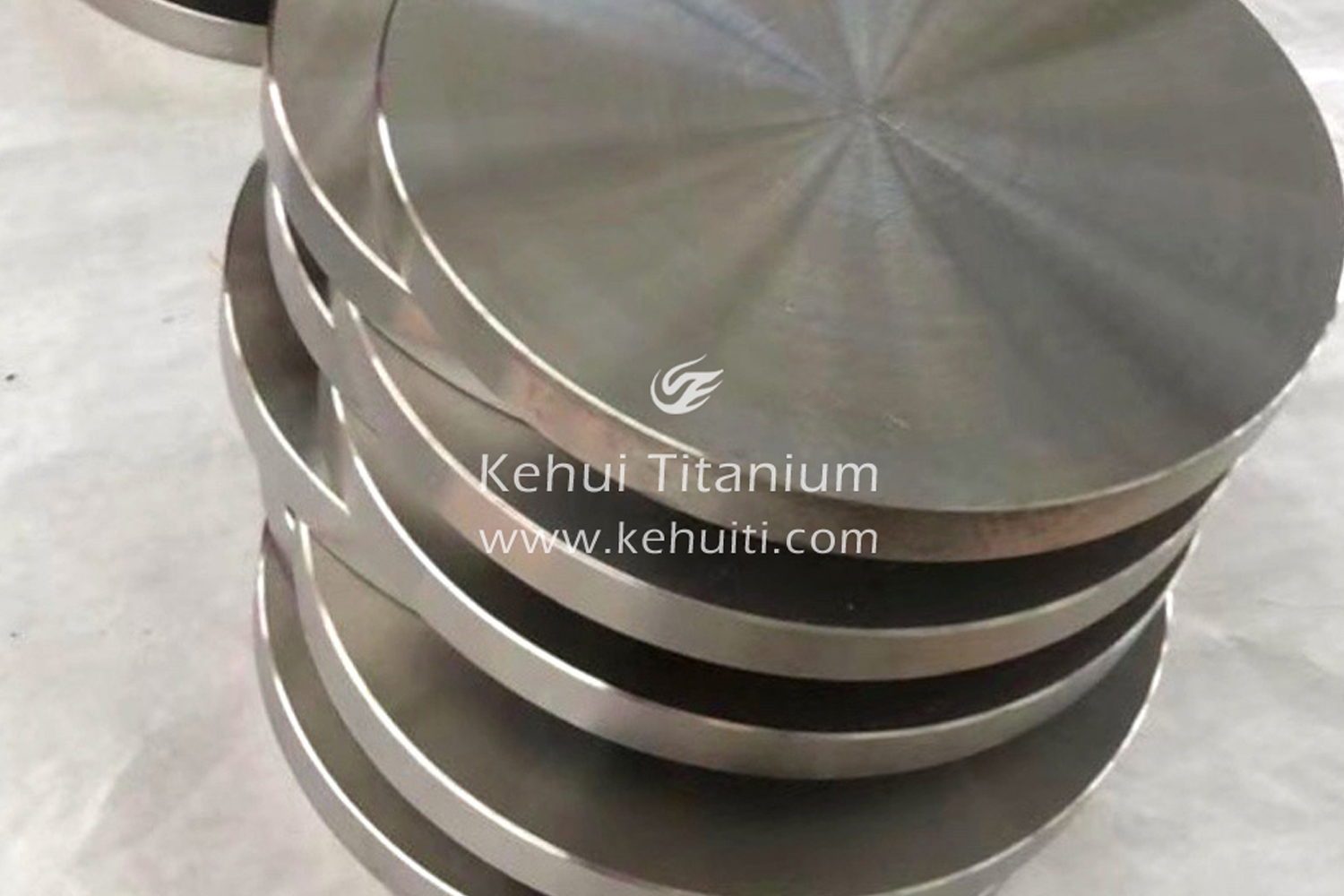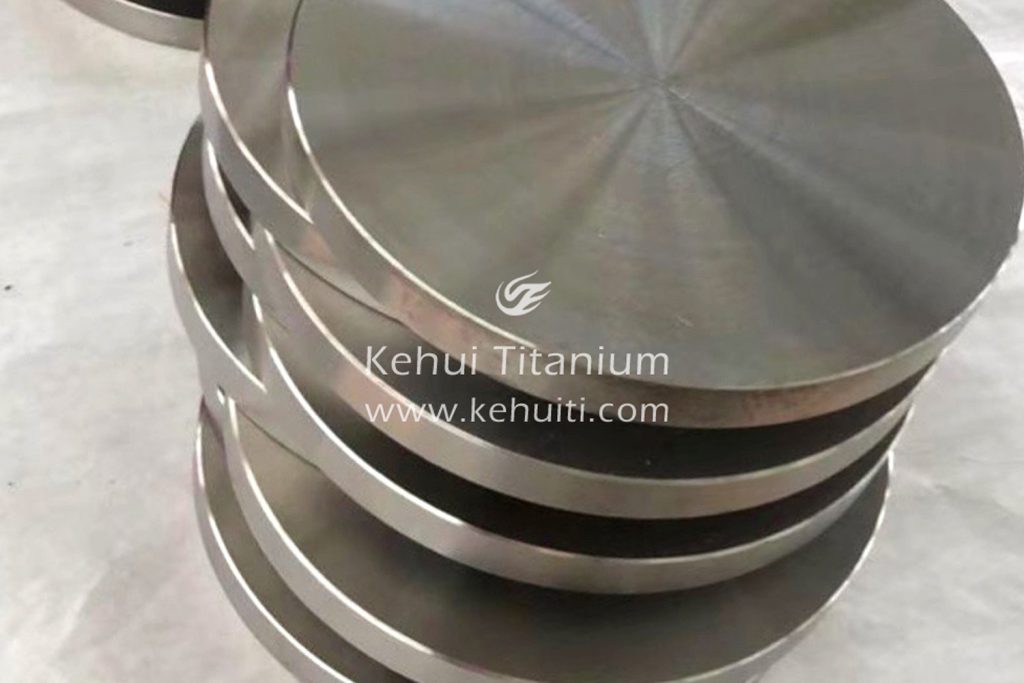 Titanium cake, titanium target block material requirements
purity
Purity is one of the main performance indicators of the target, because the purity of the target has a great influence on the performance of the film. However, in practical applications, the purity requirements of the target are also different. For example, with the rapid development of the microelectronics industry, the size of silicon wafers has grown from 6″, 8″ to 12″, while the wiring width has been reduced from 0.5um to 0.25um, 0.18um or even 0.13um, and the previous target purity was 99.995% It can meet the process requirements of 0.35um IC, while the preparation of 0.18um lines requires 99.999% or even 99.9999% of the target purity.
Impurity content
Impurities in the target solid and oxygen and moisture in the pores are the main pollution sources of the deposited film. Target materials for different purposes have different requirements for different impurity contents. For example, pure aluminum and aluminum alloy targets used in the semiconductor industry have special requirements for alkali metal content and radioactive element content.
density
In order to reduce the pores in the target solid and improve the performance of the sputtered film, the target is usually required to have a higher density. The density of the target affects not only the sputtering rate, but also the electrical and optical properties of the film. The higher the target density, the better the performance of the film. In addition, increasing the density and strength of the target makes the target better able to withstand the thermal stress during the sputtering process. Density is also one of the key performance indicators of the target.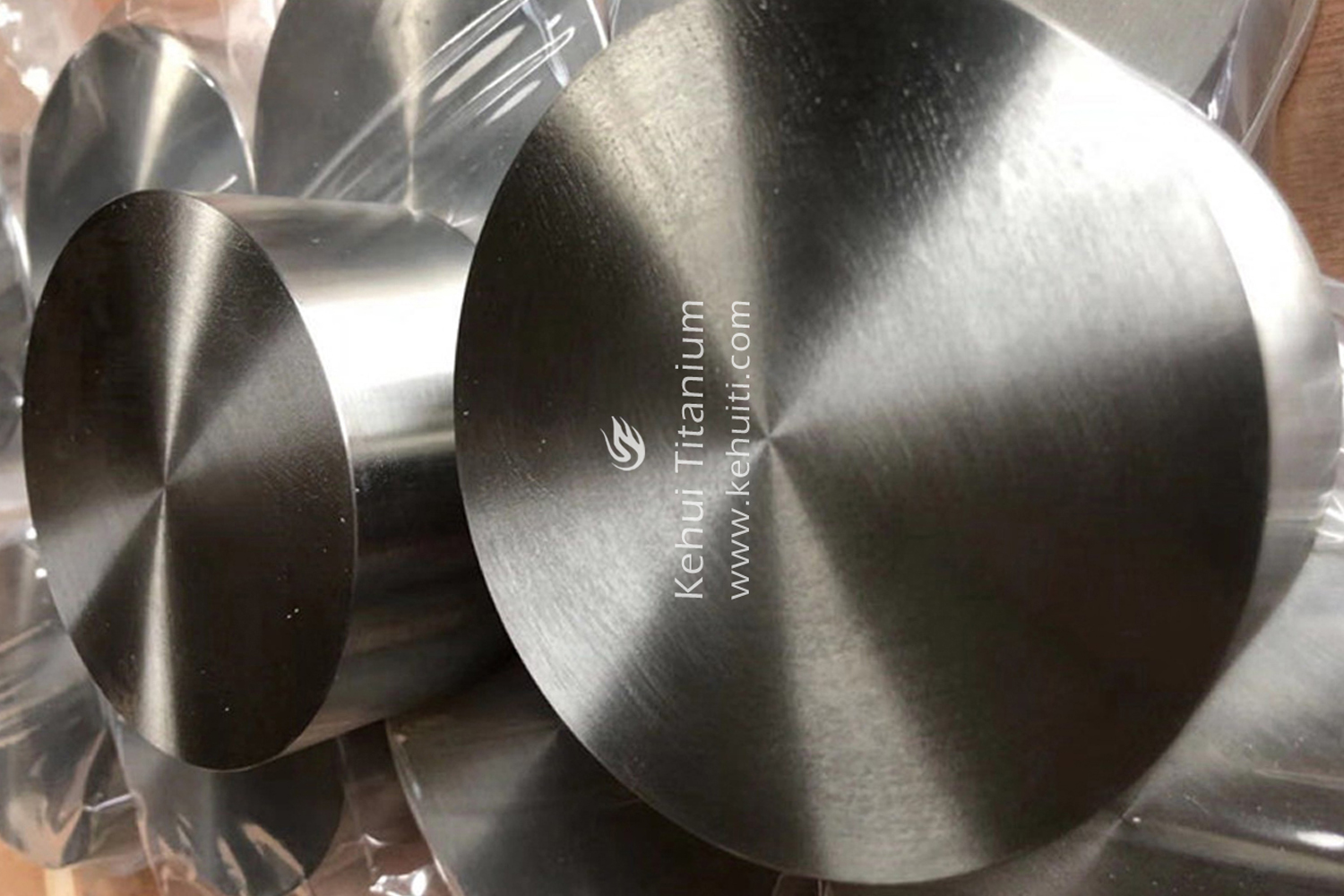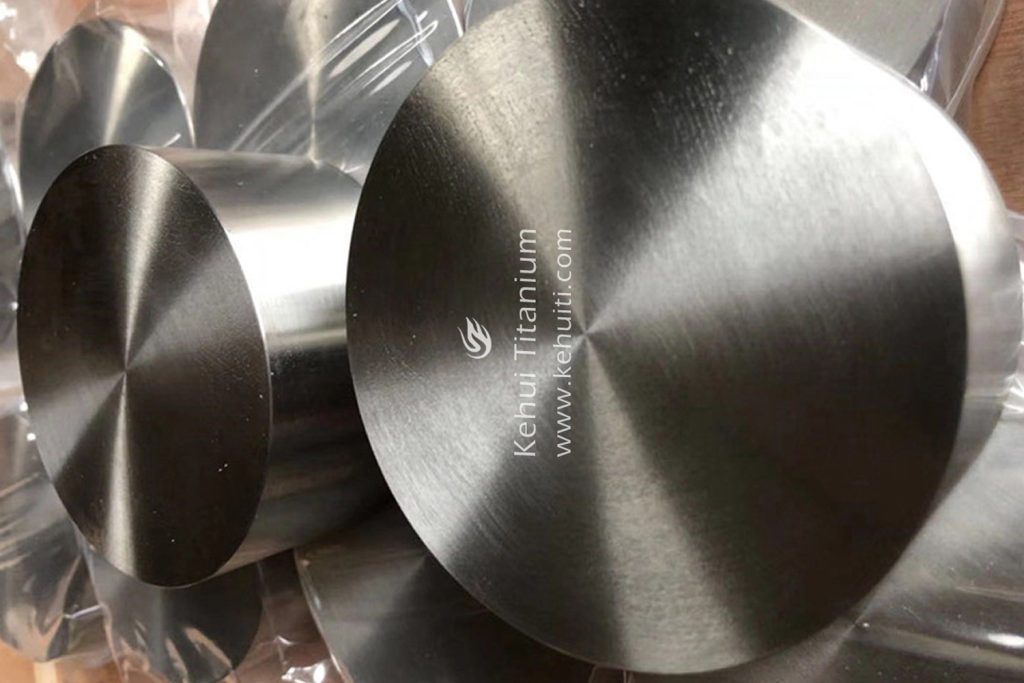 product name
purity
density
Coating dominant color
shape
Regular size
Application industry
Titanium Aluminum (TiAl) Alloy Target
2N8-4N
3.6-4.2
rose gold/coffee gold
Cylindrical
diameter
60/65/95/100*30/32/40/45mm
Decoration/Tools
pure chromium(Cr)target
2N7-4N
7.19
white/black
Cylindrical
diameter
60/65/95/100*30/32/40/45mm
Decoration/Tools
pure titanium(Ti)target
2N8-4N
4.51
gold/gun black/blue/rose
Cylindrical
diameter 60/65/95/100*30/32/40/45mm
Decoration/Tools
Pure zirconium(Zr)target
2N5-4N
6.5
gold
Cylindrical
diameter 60/65/95/100*30/32/40/45mm
Decoration/Tools
pure aluminum(Al)target
4N-5N
2.7
silver
Cylindrical
diameter 60/65/95/100*30/32/40/45mm
Decoration/Tools
pure nickel(Ni)target
3N-4N
8.9
Metal color
Cylindrical
diameter 60/65/95/100*30/32/40/45mm
Decoration/Tools
Nickel vanadium(Nir)target
3N
8.57
blue-green
Cylindrical
diameter 60/65/95/100*30/32/40/45mm
Decoration/Tools
pure niobium
(Nb)target
3N
8.57
White
Cylindrical
diameter 60/65/95/100*30/32/40/45mm
Decoration/Tools
Pure Tantalum(Ta)target
3N5
16.4
black purple
Cylindrical
diameter 60/65/95/100*30/32/40/45mm
Decoration/Tools
2.standard value
Chemical composition reference standard
Grade
Al
V
N≤
C≤
H≤
Fe≤
O≤
other elements (single)
other elements (sum)
TA1
0.03
0.08
0.015
0.20
0.18
0.1
0.40
TA2
0.03
0.08
0.015
0.30
0.25
0.1
0.40
TC4
5.5-6.75
3.5-4.5
0.05
0.08
0.015
0.30
0.20
0.1
0.40
Mechanical performance reference standard
Grade
Mechanical properties at room temperature, not less than
tensile strength
Yield Strength
Elongation
rate of reduction in area
TA1
240 MPa
170MPa
25%
30%
TA2
345MPa
275 MPa
20%
30%
TC4
895MPa
825 MPa
10%
20%